Program description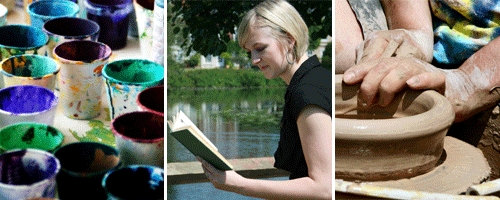 The
Master of Fine Arts
program has been up and running since 1973 and will give you the opportunity really get your head into the world of Fine Arts. You will be given the skills to develop your work in a context of intense critical discussion.
Approximately ten students are selected for the
Master of Fine Arts
program each year based on their capability as artists, craftpersons, or designers; their understanding of related critical information; and the personal qualities and interests that might be expected to contribute to their success as teachers and scholars.
The
Master of Fine Arts
program is offered as two paths. The Master of Fine Arts in Craft program is discipline-based in ceramics, jewellery design and metalsmithing or textiles. The Master of Fine Arts in Fine and Media Arts is cross-disciplinary in nature, though students may concentrate in audio and video, digital media, drawing, film, installation, painting, performance art, photography, printmaking, or sculpture.
Admission requirements
To enter this program you will need a Bachelor´s degree in a related field.
---
Does this course require proof of English proficiency?
The TOEFL® test is accepted by 10,000+ universities and higher education institutes in over 150 countries. Book your test today!
Learn more
Tuition fees
Tuition fees comes to a total of $6894.90 per semester. Additional expenses for accomodation, clothing, study material etc. is estimated to $5704.00 per semester.
Qualification
About this institute
NSCAD University
A leading North American visual arts university for more than a century, NSCAD University offers a comprehensive range of graduate and undergraduate degrees. Combining the beauty of a historic centre with an international cultural vision, NSCAD experience remains unique in Canada. One...
Read more about this school

Be the first to write a review!



COVID-19: Support for Current and Prospective Students
We believe in making study abroad a safe, positive experience for everyone. Find out what we're doing to help our users in light of recent coronavirus (COVID-19) developments.
Career test - find your perfect career
Take our free career test that will match you with programs and careers based on your interests and personality.