CUMT-Beijing has established a multi-level education pattern.
China University of Mining & Technology (Beijing) or CUMT
-Beijing was established on the basis of Beijing Graduate School of China University of Mining & Technology (
CUMT
). The campus covers a total area of 217,000 square meters and a floor space of 223,000 square meters. The university's fixed assets amount to 279.95 million RMB and its library has holdings of 330,000 volumes.
CUMT
-Beijing is an important part of China University of Mining & Technology. Giving priority to engineering among other disciplines of science, liberal arts and management,
CUMT
is a leading multi-disciplinary polytechnic university with mining features. It has been officially approved as one of the first universities for the national "211 Project". Currently
CUMT
-Beijing consists of one graduate school and 9 academic schools (School of Safety and Resource Engineering; School of Chemical and Environmental Engineering; School of Mechanical, Electronic and Information Engineering; School of Management; School of Mechanics, Architecture and Civil Engineering; School of Basic Science And Arts; School of Continuing Education; School of Vocational Technique Education in
CUMT
-Beijing; School of Safety Science and Technology). It also has 7 national key disciplines, 9 provincial key disciplines, 5 first grade disciplines conferring degrees for both Doctor and Master, 8 construction programs of key disciplines in the "211 Project" during the period of the Tenth Five-Year-Plan, 7 disciplines offering positions for Special Appointment Professor by "Cheung Kong Scholar Program", and 9 post doctoral research stations. At present
CUMT
-Beijing possesses 53 specialities for undergraduates, 70 specialities for Master candidates and 31 specialities for Doctoral candidates, one key laboratory under China Ministry of Education, one key laboratory under Beijing Municipal Government, and more than 20 laboratories in various disciplines, Coal Slurry World Laboratory, Sino-Japan Stratigraphic Environmental Mechanics Research Center and International Exchange Center. In addition, the university is authorized to enroll MBA, EMBA and Engineering Master candidates.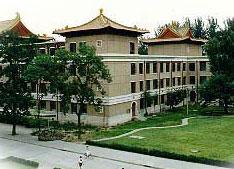 With years of efforts,
CUMT
-Beijing has established a multi-level education pattern emphasizing simultaneously development of graduate, undergraduate and adult education. At present the student body of
CUMT
-Beijing totals over 6800, including more than 3900 undergraduate students, 2400 graduate students and 500 students receiving adult education.
CUMT
-Beijing now has a total of 665 faculty and staff members, including 300 full-time teachers. Among the academic staff, there are 7 academicians of Chinese Academy of Sciences or Chinese Academy of Engineering, 63 supervisors for doctoral candidates and 130 supervisors for master candidates, 77 full professors and 108 associate professors. The university boasts to have 2 winners of National Young Scientist's Award and its Nomination Award, 4 winners of National Distinguished Youth Foundation and 3 teachers who were titled as National Outstanding Young and Middle-aged Expert.
CUMT
-Beijing has paid great attention to international academic cooperation and exchange, and has established such educational ties with dozens of foreign universities and academic organizations. Many teachers from
CUMT
-Beijing go abroad every year for international academic exchange and cooperative research.

Be the first to write a review!



Has COVID-19 affected your study abroad plans?
We want to hear your stories. Help us get a better idea of how the coronavirus is impacting international students by taking our two minute survey.
Win a €5000 scholarship

to study in Europe
Planning on studying a Master's degree in Europe? We're offering a scholarship to help cover your tuition fees and get you one step closer to your next great adventure!
Career test - find your perfect career
Take our free career test that will match you with programs and careers based on your interests and personality.