Program description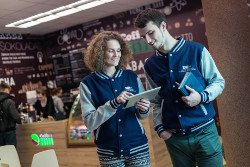 The finance engineering program aims to prepare students with modern knowledge about the financial systems and markets. Students will be able to integrate and apply the knowledge of financial theory, financial process management, and financial engineering to make effective financial decisions in global economics.
Graduates will have knowledge of financial theory and practice in forming, evaluating, and independently making effective financial decisions. This approach will be based on systematic, critical, and constructive thinking.
What you'll learn:
To process financial information, to analyze and evaluate it.
To understand financial and investment principles.
To apply accounting, management accounting, investment, risk and personal financial management skills.
Develop and evaluate possible financial decisions alternatives in making effective and informed management decisions. Will be able to objectively evaluate quantitative and qualitative financial processes.
Identify and forecast financial results, make decisions under uncertainty in creating, developing and increasing the value of the business.
Admission requirements
Secondary School Graduation Certificate with good results, particularly in mathematics and English.
English language proficiency (B2 level).
---
Does this course require proof of English proficiency?
The TOEFL® test is accepted by 10,000+ universities and higher education institutes in over 150 countries. Book your test today!
Learn more
Tuition fees
Non EU citizens 2700 EUR/year.
EU citizens 1248 EUR/year.
About this institute
Vilnius Gediminas Technical University
Vilnius Gediminas Technical University (VGTU) located in Lithuania provides an innovative and responsive learning environment for international students. Offering programs at a bachelor, master, and PhD level, VGTU's diverse range of programs cater to students from around the world.  VGTU...
Read more about this school
Contact info
Vilnius Gediminas Technical University
Want to know more about Bachelor in Finance Engineering? Fill out the following form and we'll pass your details on to a representative from the school, who will respond to your enquiry.

Be the first to write a review!



COVID-19: Support for Current and Prospective Students
We believe in making study abroad a safe, positive experience for everyone. Find out what we're doing to help our users in light of recent coronavirus (COVID-19) developments.
Career test - find your perfect career
Take our free career test that will match you with programs and careers based on your interests and personality.