Program description
Study international economics and management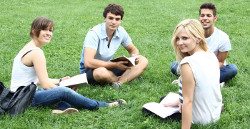 The bachelor of international economics and management (BIEM) focuses on enterprises and public and private institutions operating internationally in an increasingly complex world, requiring them to think and operate in world-wide terms.
You'll learn to understand and analyze the dynamics of globalization of cultures and operations and the relationships among countries at the European and extra-European levels. Through a comparative approach, you will study how cultural differences can influence these dynamics, and how institutions, firms and the financial system as a whole operate in the global context.
You will master management tools typical of companies with a significant international dimension and operating in different and increasingly integrated economic systems. Content is tailored to give you a strong preparation in the field of international economics and business and a distinctive international perspective.
Admission requirements
Transcripts for the third-last and second-last years of secondary school
An aptitude test: the SAT, ACT or Bocconi test
CV and personal statement
Certificates (e.g. language, IT)
---
Does this course require proof of English proficiency?
The TOEFL® test is accepted by 10,000+ universities and higher education institutes in over 150 countries. Book your test today!
Learn more
Tuition fees
The financial aid system provided by Università Bocconi includes various types of support. International applicants are offered:
Merit-based aid: all applicants will be automatically considered for the Bocconi Merit Awards or Bocconi International Awards, based on the admission criteria. There is no need to file a separate application form.
Need-based aid: for Bocconi Scholarships applicants must submit a specific application by the same deadline as the deadline for Bachelor programs applications
Qualification
Bachelor of International Economics, Management and Finance
Continuing studies
Courses for 2 years towards a Master of Science or for 1 year towards a Level Specialised Masters.
About this institute
Welcome to Università Bocconi - a leading international Business and Economics university
Università Bocconi is one of Europe's leading universities within the educational fields of Economics and Business. Their modern campus is situated in central Milano, Italy's center for business, trade and fashion. Bucconi is a private, state granted institution, and was...
Read more about this school

Be the first to write a review!



COVID-19: Support for Current and Prospective Students
We believe in making study abroad a safe, positive experience for everyone. Find out what we're doing to help our users in light of recent coronavirus (COVID-19) developments.
Career test - find your perfect career
Take our free career test that will match you with programs and careers based on your interests and personality.