Program description
Study entrepreneurship and innovation in the USA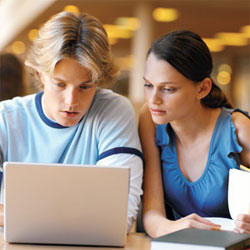 The Master of Science in entrepreneurship and innovative ventures at Rochester Institute of Technology is designed to support participants who are looking to move into leadership roles in the technology industry.
The MS in entrepreneurship and innovative ventures combines knowledge and skills from both the fields of business as well as technology, enabling graduates to communicate at all levels within an organization.
This innovation and entrepreneurship master degree will cover core courses and elective courses in the fields of accounting, marketing, organizational behavior and leadership, technology management, entrepreneurship and product commercialization.
Admission requirements
To be considered for admission to the MS in entrepreneurship and innovative ventures from RIT, candidates must fulfill the following requirements:
Hold a baccalaureate degree from an accredited institution,
Submit official transcripts (in English) from all previously completed undergraduate and graduate course work,
Submit the results of the Graduate Management Admission Test (GMAT) or Graduate Record Exam (GRE) (GMAT preferred),
Submit a personal statement,
Submit a current resume, and
Complete a graduate application.
International applicants whose native language is not English must submit scores from the Test of English as a Foreign Language. Minimum scores of 580 (paper-based) or 92 (Internet-based) are required. Scores from the International English Language Testing System (IELTS) will be accepted in place of the TOEFL exam. The minimum acceptable score is 7.0. The TOEFL or IELTS requirement is waived for native speakers of English or for those submitting transcripts and diplomas from American institutions.
Completed applications for admission should be on file in the Office of Graduate Enrollment Services at least four weeks prior to registration for the next academic semester for students from the United States, and up to 10 weeks prior for international students applying for student visas.
Accepted students can defer enrollment for up to one year. After one year, a new application must be submitted and will be re-evaluated based on the most current admission standards.
---
Does this course require proof of English proficiency?
The TOEFL® test is accepted by 10,000+ universities and higher education institutes in over 150 countries. Book your test today!
Learn more
Tuition fees
For information on the tuition for the master in entrepreneurship from Rochester Institute of Technology, please complete a request form.
Qualification
Graduates of this program will be awarded a Master of Science in Entrepreneurship and Innovative Ventures.
About this institute
Cooperative education
Join a vibrant community teeming with students, experts, and specialists across all fields at Rochester Institute of Technology (RIT). Offering the perfect environment to pursue your passions, RIT offers an intersection of disciplines for you to launch your career. The...
Read more about this school
Want to know more about Entrepreneurship and Innovative Ventures MS? Fill out the following form and we'll pass your details on to a representative from the school, who will respond to your enquiry.

Be the first to write a review!


Career test - find your perfect career
Take our free career test that will match you with programs and careers based on your interests and personality.